---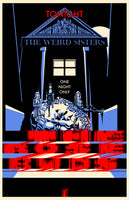 Dimensions: 11x17

3 Color Screenprint on French Paper
Free Shipping in the US!
Satisfaction Guaranteed -- Or Your Money Back!
Sadly, the event for which this poster was printed has passed.  One night only means one night, and it's no one's fault but your own if you missed the opportunity to see the Rose Buds play at the Weird Sisters.
Then again, if you didn't know it was happening, it probably wouldn't have been safe for you to be there in the first place.  The Daughters of Hecate are a rowdy bunch.  
No matter.  Even if you didn't get the chance to see what I'm assured is the hottest trio of witches to ever hit the stage, you still have time to get your hands on the gig poster.  Don't sleep on it.  There are only a hundred copies left in the wild, and the demand is hotter than hellfire.